Back
Piedra del Penol and Guatape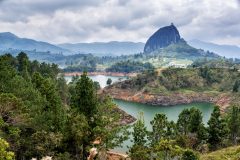 An exhilarating climb to the top of the extraordinary Piedra del Peñol close to Medellin.
It looks a bit like Rio's Sugarloaf mountain and the 200m high, sheer-walled dome of rock in the shape of a missile is just as dramatic. Rising from an area of flat but ravishing countryside featuring a vast sinuous reservoir, Piedra del Peñol has become a visitor highlight for the magnificent views from the top. You can climb it on a carved stairway in just half an hour.
A visit to the rock is usually combined with a stop-off at lakeside Guatapé, a quaint colonial village with coloured houses straight out of a children's paintbox. There's a pleasant promenade by the lake where pleasure boats are moored.
Colombia
Medellin