Back
Discover Fernando Botero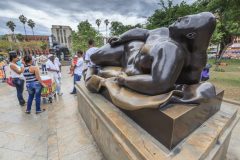 Renowned Medellin artist Fernando Botero's works are proudly displayed in the city of his birth.
Medellin's favourite son is visionary artist Fernando Botero, born 1932. His seductive over-sized statues and paintings are to be found all over the city, especially in the central Plaza Botero, an impressive square devoted to 23 huge, shiny bronze figurines which he donated to the city.
Many of his equally striking paintings are to be viewed in the Museum of Antioquia on the square – some are comical, other narrate and comment on historical events in and close to the city, including the death of the late and unlamented drug lord Pablo Escobar.
The internationally acclaimed artist has exhibited all over the world and his pieces are displayed in galleries and public places in New York and Paris as well at Bogotá where there is a museum solely featuring his work. But it is a wonderful and moving experience to view them in his own home town.
Colombia
Medellin