Back
Star gaze at the Chilean Mamalluca Observatory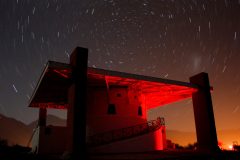 Marvel at distant nebulas and moons from a world-class astronomical centre.
Wonder at other worlds from the Mamalluca Observatory, an internationally renowned centre for astronomical study. Peering through high-tech telescopes, you can see outer space unfold before you in a dazzling celestial panorama of planets, galaxies and nebulas.
This evening tour begins with an inspiring audiovisual talk on the history of the universe, before you are invited to try to spot Saturn's rings, the moons of Jupiter and other astral sights for yourself.
Chile
La Serena and Elqui Valley