Back
Australis cruise to Tierra del Fuego from Chile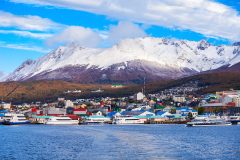 Cruise from Chile's far reaches across the Strait of Magellan and the Beagle Channel to arrive in the world's most southerly city.
The Strait of Magellan, Cape Horn, the Beagle Channel… even the place names down in far-flung Tierra del Fuego reverberate with adventure and history. Like explorers and maritime pioneers before you, on this 4-night cruise you can sail through the snow-smothered landscape of rock and ice at the world's end.
Departing from Punta Arenas in Chile, the expedition vessel negotiates a sinuous network of channels and islands to eventually arrive at the Argentine city of Ushuaia. You'll pass isolated lighthouses, subpolar forests and valleys carpeted in vivid blue ice sheets – scenes that are completely inaccessible by land.
There's the chance to make landfall at evocative spots along the way, including Cape Horn, where the edge of the continent finally slips into the ocean. Typical land excursions visit hidden glaciers, pristine southern beech forests and (in season) colonies of Magellanic penguins. This is a fabulous way to explore virgin Patagonia in full comfort and away from the everyday distractions of phone signals and internet.
Chile
Islands and fjords of southern Patagonia