Back
Coastal fjords of the Austral Road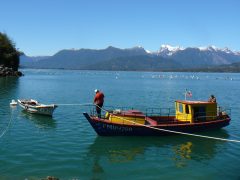 Take the road less travelled on one of the most scenic and unspoilt journeys Chile has to offer, skirting fjords and timeless villages at the starting point of the remote Carretera Austral.
One of the Lake District's most rewarding circuits begins with a short drive towards Puerto Montt to join the northern extreme of the famous Austral road as it hugs the shore, passing small coastal communities backed by rolling green hills. It's a side of the lake district rarely seen by visitors, and seemingly forgotten by modern civilisation.
Passing oyster nets strung up on the lakeshore, you'll board a local ferry to the edge of Reloncavi fjord, straddled by the conical peak of a volcano. From here, driving along the fjord offers a classic journey through off-the-beaten-track Chile: the winding road in this remote and peaceful backwater remains unpaved and shrouded in greenery as you enter Alerce Andino National Park. Picturesque villages en route include Cochamó, a tiny town dwarfed by its larger-than-life natural setting.
Looping back round past outstanding panoramas of Osorno and Calbuco volcanoes, you'll return to Puerto Varas via the mirrored expanse of Lake Llanquihue.
Chile
Chilean Lake District (south)
Holidays Coastal fjords of the Austral Road
From expertly designed Private Journeys to trail-blazing Group Tours, browse our range of carefully crafted holidays.
Group - Discovery