Back
Explore Valdivia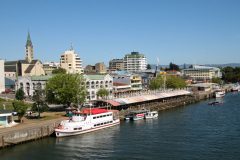 Stroll round the lively city Valdivia on Chile's lake district coast, and explore the rivers and forested hinterland.
Valdivia is an attractive river port and university city, brimming with students and also enlivened by an effervescent café culture and frequent outdoor events. It is a modern city (much of it was destroyed in the 1960 earthquake) but well worth a look around, with architecture which still reflects its Spanish and German heritage. You'll find a couple of interesting museums and a botanical garden in the delightful Parque Saval, carpeted with flowers in spring, where there is a summer Mapuche indian craft market. The focus of this green city is very much river-related (Valdivia lies at the confluence of three) and multiple boat trips, both public transport and for visitors, leave from the busy quay, the Muelle Fluvial, which hosts a fish market and where there is a pleasant riverside walk.
Further afield there is a string of colonial forts guarding the peaceful estuaries, lakes and native forests. If you fancy exploring by hire car you can drive to isolated villages at the mouth of the river Valdivia such as Niebla, 18km, which has seafood restaurants, and a little further on Los Molinos, a seaside resort.
Chile
Chilean Lake District (north)