Back
Explore the Valley of the Moon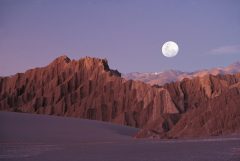 Take a guided tour around the Valley of the Moon with their otherworldly rock formations, before watching an unforgettable sunset from the top of a desert dune.
Imagine haunting primeval landscapes ablaze in the amber glow of a desert sunset… you'll see the Atacama desert's most sublime views during this experience, likely to be one of the ultimate highlights of your holiday.
It's best to set off in the late afternoon when the light is best for photography, casting a golden tone over the otherworldly terrain. Visit to the Valley of the Moon, which will leave you in no doubt as to the origin of its name: this is well and truly a lunar – if not Martian – landscape at 2,500m above sea level. You may explore its wind-eroded tunnels and caverns on foot; we recommend climbing the tallest dune to see the valley at the height of its magic, painted in the fiery tones of the sunset.
There are a number of different options you may experience on this trip, including the possibility of visiting the Valle de la Muerte, or Death Valley, where astonishing prongs of sheer, burnt orange rock rise up out of the sand in rippling waves.
Chile
Atacama Desert