Back
Cruise the Chilean fjords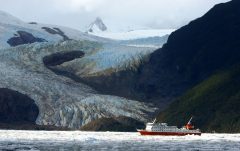 Sail the crystalline waters of the Chilean lake district and visit glaciers and rural communities on this 6-day cruise from Puerto Montt.
In a spectacular land of lakes and fjords, what better way to explore than on a comfortable cruise. This 6-day journey, which starts and ends in Puerto Montt, reveals the full splendour of the region's sapphire waterways with their backdrop of volcanoes, evergreen forests and hanging glaciers.
The highlight of the trip is the chance to visit San Rafael glacier, an inaccessible gem far from civilisation. There's a whole day here to enjoy the views from an iceberg-crowded lagoon where you can get up close to the calving ice wall in a smaller motorboat.
Other stops include a visit to the outdoor and indoor thermal pools beside Quitralco fjord, and the chance to wander among the brightly painted palafito stilt houses of Chiloé, a remote and rural island harbouring a traditional way of life.
Chile
Aisen and the Carretera Austral