Back
Visit Manaus Opera House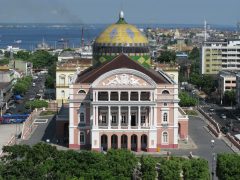 Explore the unique metropolis of Manaus, an Amazonian powerhouse with a fascinating past and plenty of architectural riches to show for it.
A modern city still bearing the vestiges of its illustrious past, Manaus has attained a size and importance that seems to contradict its alluringly remote location amidst the green sprawl of the world's largest rainforest. A half-day tour of the historic sites of this Amazonian region will take you back to the rubber boom years when Brazil looked to Europe for inspiration in its architecture and style.
Nowhere better encapsulates the urge to bring Old World sophistication to the darkest reaches of the Amazon than the beguiling opera house known as the Teatro Amazonas. Built at enormous expense from materials almost entirely imported from Europe, it is the rightful highlight of any tour of Manaus.
Brazil
The Brazilian Amazon