Back
Ride the Serra Verde railway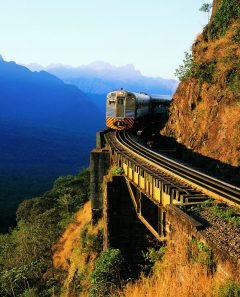 Marvel at an amazing feat of rail engineering on Brazil's most memorable train journey.
The Serra Verde Express cuts straight into the heart of the largest protected swathe of Atlantic rainforest, an emerald expanse strewn with the towering, boulder-like mountains of the Serra do Mar.
The route is as impressive for the audaciousness of its engineering as it is for its magnificent scenery, and as you cross the many viaducts, bridges and tunnels and peer over vertical drops you'll see why its construction in the late 19th century was regarded by many as doomed to failure. Confounding the naysayers, the line was completed in just five years and is still going strong today, connecting Curitiba with the beautiful colonial town of Morretes, where we'll arrange a typical Brazilian meal for you. Finally we'll whisk you back to Curitiba via the mountain road for panoramic views of the glistening ocean.
Brazil
South Brazil's mountains and beaches