Back
Stop-over in Sao Paulo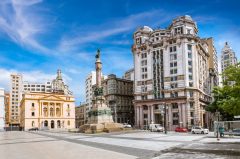 Spend a couple of days in megapolis Sao Paulo, a whistle-stop tour or a gentle amble through intriguing contrasting neighbourhoods.
The commercial heart of Brazil, the vast city of São Paulo is one of the most dynamic, energetic and multi-cultural metropolises in the world. Overwhelming in its scale, with a carpet of skyscrapers rolling out to a far off horizon, you might think it would be hard to get to grips with.
But in fact, many of the most interesting districts are quite easy to access and explore. With a compact colonial core, atmospheric neighbourhoods forged by immigrants from places as far apart as the Lebanon and Japan, chic tree-lined boulevards brimming with innovative restaurants, designer boutiques and plentiful manicured parks, the city offers a great allure for a day or two's stopover. The city's airport is a hub for domestic flights and quite often you may find you will route through the city to change planes en route to somewhere else - it would be a shame to miss out on the chance to visit world-renowned museums and galleries, maybe take in a concert, relax in a piano bar, or just wander around soaking up the atmosphere in a market.
We can easily put together a package of experiences for you so that you don't feel all at sea, with airport transfers, a couple of nights in a good hotel and guided excursions.
Brazil
Sao Paulo