Back
Historic Salvador walking tour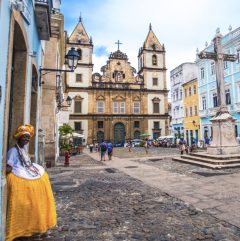 Amble through Salvador's past on a walking tour of its well-preserved historic centre.
A compact core of staggering architectural riches makes Salvador an ideal city to explore on foot. The Portuguese built the country's first colonial capital here and their pastel-hued masterpiece was arguably never exceeded in Brazil. Once the site of slavers' markets, the cobblestone squares of the historic centre now resound with vibrant African drumming and capoeira displays.
Our half-day walking tour wanders along wonderfully preserved historic streets and squares including the famed Pelourinho, which takes its name from the whipping post that once stood at its centre. Once you've had your fill of elegant churches and restored mansions, you'll descend the Lacerda elevator – one of the symbols of Salvador – to the lively Modelo market to see the contrast between the Upper City and Lower City areas.
Brazil
Salvador, Lencois and the beaches of Bahia