Back
Visit historic Petropolis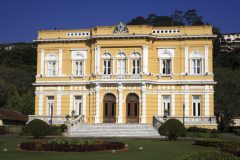 Visit Rio's summer retreat, a historic and beautifully situated hill town.
Since colonial times, well-to-do urbanites have escaped the summer heat of Rio in fashionable Petrópolis. With an intriguing Germanic feel, it makes a real contrast to the city yet lies just an hour and a half's drive from central Rio.
Stroll the mansion-lined streets of the historic centre for a taste of the colonial era. The main attraction is the former summer palace of the Portuguese Emperor, an impressively well-kept residence housing a collection of treasures.
Brazil
Rio de Janeiro