Back
See the views from Sugar Loaf mountain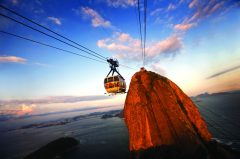 Reach the top of Sugar Loaf mountain to enjoy views over Copacabana and Christ the Redeemer over Botafogo Bay, especially glorious at sunset.
Of course the best known and most popular way of ascending the twin peaks of the Sugar Loaf is to take the two-station cable-car from the arty little district of Urca which clings to the mountain's skirts. You can reach the sea-level station by taxi, public bus or with us on a guided tour by minibus or open-top jeep, taking in other city highlights en route.
You can choose to climb a shady path through woods from sea level to the top of the first mountain and continue by cable car; or do that in reverse.
Alternatively climb the whole way on foot aided by an English-speaking guide and all necessary equipment. The ascent is challenging but doesn't require technical expertise or climbing experience, so if you're relatively fit and healthy there's nothing to stop you.
A rocky path leads most of the way up, but you'll need to climb 25m of sheer rock face using ropes and a harness. You'll feel you've truly earned the staggering views to be enjoyed from the top.
However you decide to ascend, we recommend the free nature walk through shady woodland around the base of the mountain: it is a guarded,well-prepared path and you will see a plethora of butterflies, tropical birds and maybe even small mammals scuttling through the undergrowth.
Brazil
Rio de Janeiro