Back
See a football match at Rio's Maracana stadium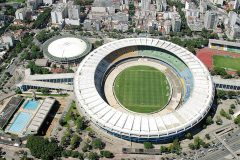 Make a footballing pilgrimage to the Maracanã to see the game at its best.
An electric atmosphere pervades Brazil's foremost sports venue. The Brazilian flair for football is legendary, as is the friendliness and spirit of the locals; combine the two and you have an utterly intoxicating experience that would have even the most reluctant sports fan wildly cheering along.
The stadium – the largest in South America – has had a full facelift for the 2014 World Cup, but whether you'll be lucky enough to visit during the tournament or just catch a local championship match, you can be sure of an exciting game. Samba drumming, singing and clapping accompanies the action and fans are amongst the most vocal (yet good-natured) in the world.
Brazil
Rio de Janeiro