Back
Track jaguars in the Brazilian Pantanal
Enjoy a unique opportunity to observe jaguars in the wildlife at Refugio Caiman in the Brazilian Pantanal.
During a stay at the prestigious Refugio Ecológico Caiman in Brazil's Pantanal wetlands, you have a unique and privileged opportunity to observe the work of the Onçafari Jaguar Project, a ground-breaking conservation initiative promoting ecotourism in the Pantanal.
This is done by "habituating" - as opposed to domesticating - jaguars so that visitors can witness these magnificent animals, from the safety of a vehicle, while on safari. When a jaguar is habituated it simply stops perceiving you as a threat and behaves in a relaxed manner in your presence, while continuing to be a wild animal, at home in its wildlife habitat.
Certain individual jaguars are fitted with a GPS and satellite transmission collars in order for the project managers better to understand their behaviour, social interactions and territory. The collars don't interfere in their natural behaviour or cause them harm and are pre-programmed to fall off automatically after a period of time; three female jaguars fitted with collars during the project have given birth and successfully raise their cubs.
You'll have the chance to see the recordings of motion sensitive cameras which take photographs or film animals which pass in their range, allowing for the identification of individual cats by their unique pattern of spots.
But best of all is your opportunity to see one of these notoriously shy creatures up close. Sightings of course cannot be guaranteed, but you have a better chance here than anywhere else in the region - between 35 and 50 jaguars are thought to live on Refugio Caiman's property.
Brazil
The Pantanal
Holidays Track jaguars in the Brazilian Pantanal
From expertly designed Private Journeys to trail-blazing Group Tours, browse our range of carefully crafted holidays.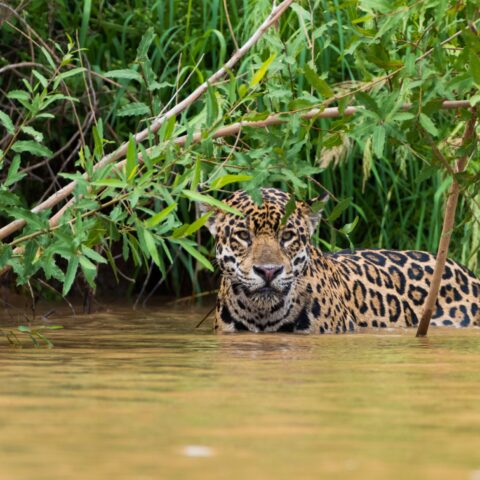 Private Journeys