Back
Go wildlife spotting in the Pantanal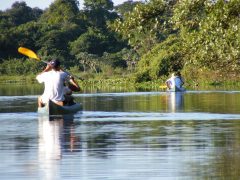 Head into the bush on a variety of excursions by boat, on horseback and on foot to spot wildlife in the Pantanal.
Covering an enormous area of barely populated wilderness, the Pantanal do Mato Grosso is perhaps the best place in South America to see wildlife. On a variety of land and river excursions, tailored to the season and the conditions, you'll have the opportunity to track and observe animals in their undisturbed natural habitat, often easily visible thanks to the sparse foliage characteristic of these expansive grasslands.
While staying in the Pantanal, you are highly likely to see plenty of capybara, howler monkeys and caiman (particularly impressive on a night safari when a flash of the guide's torch on a lake will light up countless pairs of glowing prehistoric eyes). Giant anteaters, jabiru storks, toucans, deer, peccaries, coatis and giant otters are also common, while ocelots and tapirs may be sighted. With luck, it's even possible you might get a once-in-a-lifetime glimpse of a jaguar or an anaconda.
Brazil
The Pantanal