Back
Explore historic Sao Luis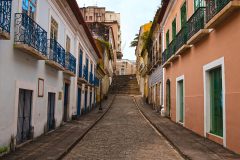 Take a guided tour round the historic heart of remote São Luis, in Brazil's far north.
Founded in 1612, São Luis was a Portuguese slaving port for Amazonian indians and Africans brought in to work in the plantations, and the heritage of all three ethnic groups merge here to create a unique cultural masterpiece. There's even a French-built fort for good measure.
The city is now recognised by UNESCO and gradually being restored, but it still evokes a feeling of remoteness and obscurity which you will get as you are guided round the sights which include the Governor's palace and rather grand 17th century cathedral. You'll observe peeling paintwork, steep shadowy steps, once ornate mansions with dainty shuttered windows, and more intricate Portuguese blue tiles than you will see anywhere outside Portugal. Among the decaying buildings you'll also find galleries, museums and craft shops, indicative of the city's embryonic potential.
Brazil
North coast: Natal, Fortaleza and Sao Luis