Back
Stop-over in Brasilia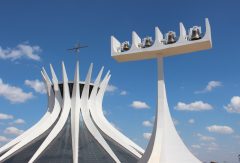 Spend a couple of days exploring Brazil's modern planned capital Brasilia with its futuristic architecture.
The centre-west of Brazil was a wild and empty place, a landscape of canyons and grasslands split by crystalline rivers. That was until the 1950s, when visionary president Juscelino Kubitsheck decreed the speedy construction of a new capital to distract attention away from the coast. The city, inaugurated in 1960, was futuristic and uncompromisingly modern for its era. Built in the shape of a hummingbird, plane or bow and arrow and facing west, it presents an embodiment of the Brazilian motto, Order and Progress.
Urban planning dictated the construction of 'sectors' – commercial, leisure-focussed, residential, and governmental – a parade of east European-like blocks march down the Eixo, the central artery, from the Presidential seat, the Planalto, which sits in the central sculpture-dotted Praça de tres Poderes. The striking cathedral, conceived as a crown of thorns, is the most iconic building in a city devoted to innovation.
It doesn't seem so space-agey now, of course, more 1960s Star Trek than the CGI-enhanced 21st century iterations. But it's a fascinating place which can't be ignored, its architecture dominated by the work of celebrated Oscar Niemeyer. Tricky to negotiate on foot, but a guided city tour by car will give you a great impression of the city and how it fits together. If you are flying between other Brazilian attractions you may well need to change planes in the capital, giving you the opportunity to spend a day or two here to enhance your understanding of this complex country.
Brazil
Brasilia and the Cerrado