Back
Visit a penguin colony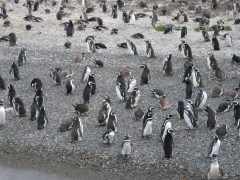 Walk among the massed crowds of Magellanic penguins which breed on and close to the Valdés Peninsula.
The Patagonian landscape of the Valdez Peninsula and the neighbouring coastline is hauntingly desolate but it's well populated with wildlife and you may spot ñandu ostriches, Patagonian hares and graceful guanacos as you drive through in search of penguin rookeries.
The largest rookery of Magellanic penguins, with an estimated population of 300,000 birds, is to be found at Punta Tombo, a 3hr drive from Puerto Madryn. During the September to March breeding season, you can wander among jostling crowds of unperturbed penguins, making this one of the area's top attractions. Other rookeries may be visited in the region.
There's also an intriguing cultural facet to the area. You can stop in the village of Gaiman, founded by migrants from Wales in the 19th century (and still Welsh-speaking, at least among the older residents), visit its museum and churchyard and even take tea in one of the town's tea rooms, situated in Welsh-style stone cottages only too familiar to UK visitors.
Argentina
Valdes Peninsula and Atlantic Patagonia