Back
Visit Estancia Harberton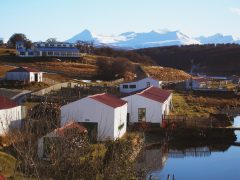 Explore a historic farm in a remote corner of Tierra del Fuego.
Built by an English missionary and named after a town in Devon, the Estancia Harberton stands as an extraordinary monument to one of the intrepid families of settlers who left Britain in the 19th century for a new life on the furthest shores of the Earth. It's the oldest estancia in Tierra del Fuego and occupies a strikingly remote spot on a windswept bay beside the Beagle Channel.
The original wooden buildings, with their corrugated zinc roofs, still stand today and the estancia continues to run as a working cattle farm. After a guided tour of the homestead and its attractive gardens, tea and cakes at the cosy tea room are a must.
Argentina
Tierra del Fuego