Back
Cabo San Pablo and Estancia Rolito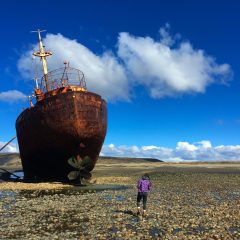 Explore Tierra del Fuego's Andean hinterland and the historic coast, with a visit to a traditional sheep ranch.
Venture out of Ushuaia on a day-long, enthusiastically guided adventure where you travel into a savagely glaciated wilderness along unpaved tracks. It's not all about the scenery: a lighthouse on a lonely cape, a mysterious sunken ship and a long-established Patagonian estancia give you fascinating glimpses into the life and history of Argentina's most southerly island, Tierra del Fuego.
Heading inland, you cross the fractured tail of the Andes with stunning views over savage spiky mountains and sapphire-hued Lake Fagnano, then visit a quirky institution - an internationally celebrated village bakery. Back on the bleakly beautiful Atlantic shore, at Cape San Pablo, hike along a deserted beach to climb to an abandoned lighthouse, from where you can see the mournful remains of the abandoned ship Desdemona.
Sheep farming has always been a big deal in inhospitable Tierra del Fuego. The hardy folk who still run the isolated ranches are now happily welcoming visitors. The lovely Estancia Rolito is one of these, and you'll learn first-hand how they raise their livestock according to time-tested traditional methods.
Argentina
Tierra del Fuego