Back
Bird watching in the Ibera wetlands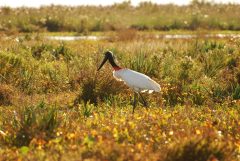 Spot a huge variety of bird life from both land and water in the birders' paradise of the Iberá wetlands.
Bird enthusiasts need look no further: between September and March the Iberá marshes are a habitat for over 300 different species, many of which are present in huge numbers. An unusual combination of climactic and environmental factors has made this a haven for birds and you'll struggle to keep track of all your sightings as you venture into a magical terrain of lush wetlands.
It's common to spot many varieties of Kingfisher, Owl, Ibis, Egret, Tern, Hawk and Woodpecker, and guides are adept at pointing out rarer species such as the White-headed Marsh Tyrant or the impressive Sickle-winged Nightjar.
Argentina
Ibera wetlands
Holidays Bird watching in the Ibera wetlands
From expertly designed Private Journeys to trail-blazing Group Tours, browse our range of carefully crafted holidays.
Private Journeys