Back
Ballet Folclorico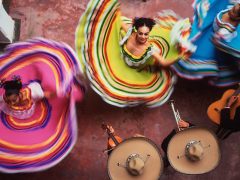 Enjoy an exhilarating display of traditional Mexican music and dance at the illustrious Palacio Bellas Artes.
Take in a unique show at the elegant venue of the Palacio Bellas Artes, with its ornate murals by famous Mexican artists watching over the performance.
The Ballet Folclórico de México presents a historical and geographical compendium of Mexican dance, bringing together styles from across a variety of different regions, many dating back to pre-Hispanic times. Founded in 1952, it is today regarded as one of the most important and accomplished ethnic ballet companies, regularly touring internationally.
Mexico
Mexico City