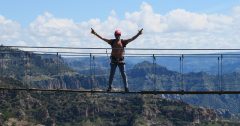 Vacancy: Product Loading Manager
Summary:  Managing the full product-loading function, ensuring rates, services and related product information are available across all business systems, to facilitate sales.
Overview:  An exciting opportunity to join award-winning Journey Latin America, the UK's leading specialist tour operator for travel to Central & South America.
The role is central to the delivery of the company's broad and diverse product range via our Reservations System and website, ensuring our travel specialists have the information and prices they need to efficiently propose and deliver unique holiday experiences for our clients. As we expand our regions of operation and implement new systems, the Product Loading Manager will play a key role in delivering success.
Working within a dynamic team of people who are passionate about travel, you will engage closely with colleagues throughout the business, including Product, Sales and Marketing, as well as key partners.
Key functions:
Rates & information management. Ensure business systems (Reservation System, website, intranet and internal drives) are consistently maintained so our diverse product portfolio is available and accurate to enable sales targets to be met.
Manage rates loading team (remote). Lead an off-site team, implementing efficient and effective processes to deliver high quality results.
Reservations System. Manage day to day issues and queries; take a lead role in identifying improvements and implementing new systems for future success.
Business support & problem-solving.  Support the Product team and the wider business in addressing challenges and driving change, as required.
Knowledge and experience required: 
The successful candidate will have a proven track-record within the travel industry (ideally in rates management role) with experience in dealing with contracts, systems and related product information.
With the ability to manage projects, teams and resources effectively, they will be organised, analytical and numerate, with keen attention to detail and a desire to set up processes and seek solutions that support the overall business.  They will work well under pressure, prioritise and multi-task, whilst maintaining a flexible, co-operative and positive approach to work; and be able to develop positive relationships within the team and a range of suppliers.
Alongside excellent communication skills, experience in using reservations systems is essential.
Educated to degree level and travel experience in Latin America and North America an advantage.
 Package/benefits:
A market-leading salary, based on experience
Hybrid working – allowing both office and home working each week (with core days in office)
23 days annual leave (plus bank holidays, increasing with service).
Pension scheme
Life Assurance
Income Protection Insurance against long-term absence from work
Cycle to work scheme
Fam trips and business travel, as required
We are supportive of personal holidays to the regions we operate in with negotiated offers and staff discounts. We also have access to staff discounts and 'friends and family' special offers from sister companies in Der Touristik UK travel group, such as Kuoni and CV Villas.
We have modern, spacious offices with well equipped kitchen, shower room and secure cycle parking
The opportunity to work within a small yet established, growing and ambitious tour operator, where you can really get involved and make your mark.
Journey Latin America was founded over 40 years ago out of a love of the continent. This shared passion for travel to Latin America means we have always had a strong, sociable, and informal company culture and is one of the reasons our staff retention is so high. Every Thursday afternoon the whole company comes together to enjoy a well-earned break as the senior managers wheel out the well-stocked drinks and snacks trolley. Other popular events in the company calendar include the summer and Christmas parties. Many staff also socialise outside of work, taking full advantage of the excellent pubs and restaurants in the area. Located in Stamford Brooke, right next to one of the city's loveliest stretches of the River Thames, we have numerous parks and green spaces right on our doorstep. Chiswick and Hammersmith offer a great array of shops, cafes, and restaurants to enjoy within easy walking distance. Whilst the company has an independent spirit, we are proud to be part of the Kuoni/Der Touristik UK travel group.
For a more detailed Job Description and to apply for this role, please email: Antonio Vaquero hr@journeylatinamerica.co.uk