There is this old adage that goes, "when in Rome, do as the Romans do". I can't say I find this a particularly wise idea to be applied to all situations (sitting naked in a Finnish sauna with your in-laws, anyone…?) but given that I was going on a self-drive trip to Colombia I thought I might as well give it a try and immerse myself in the local habits. You could ask yourself why did I have to do so; after all, why couldn't I just keep my good British driving behaviour on the Colombian roads? Well… put it this way: I did keep some of it, but everything is relative.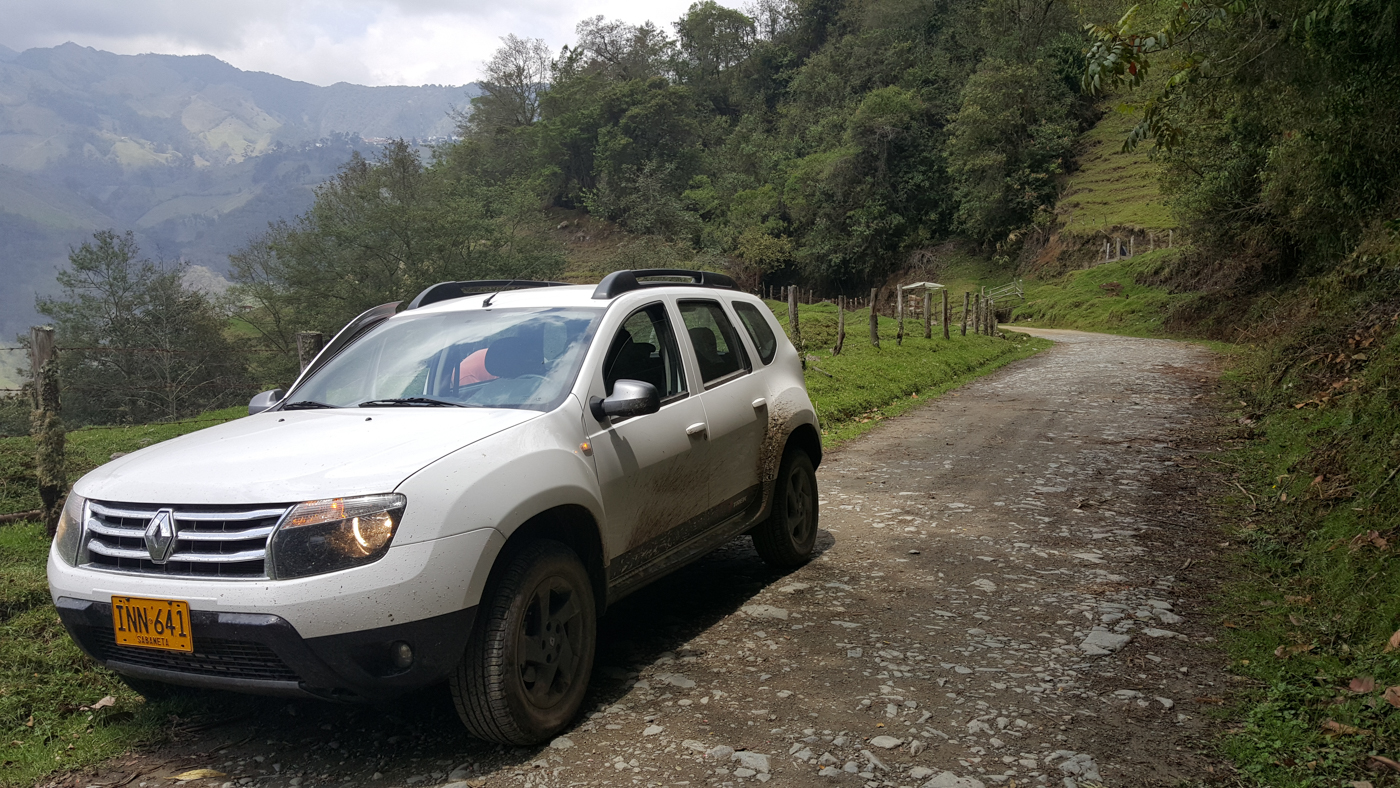 First, let me be clear: I enjoy driving, though I am no petrol head. I could probably change a wheel and check the basics, but that is as far as I go. No technical stuff and I can't stand Top Gear. However, when it involves exploring places off-road behind the wheel of a 4WD then I'm definitely your girl. And the bosses knew that, so off I went to explore some of the roads in this breathtakingly beautiful, mad and tremendously friendly country.
The idea was to pick up the car at Bogotá airport, drive west towards Armenia and the coffee country, then turn eastwards to Honda on the Magdalena river and back to Bogotá, all in the space of a week. Of course, I was not to go on my own, and so I was accompanied by a member of our Colombian partner's office, Julián – the friendliest chatterbox you could ever wish to meet, to whom, before we continue, I must give some credit. After all, he got into a car with somebody he didn't know (ok, I was recommended – this is work, right?) to drive across some well-respected roads which she (that is, me) didn't know. But then again, I was the one driving, so hats off to me too!
The driving started well enough – the first leg from Bogotá to Ibagué was a good dual carriageway road, in excellent condition. To get to Armenia we had to cover only 280km and, given what I was seeing, I thought this was going to be a piece of cake. And then the fun started. Julián duly informed me that the dual carriageway ended here and from now it was a single one. Not only that, but also this journey normally takes about 6 hours and the last 2 or 3 are on a stretch called the Alto de la Linea, some 50km of tight bends on a rather steep climb – though with such spectacular views that the effort is thoroughly worthwhile.
Not to be ruffled, yours truly kept her cool and the driving ended up well enough, in good time and arriving safe and sound to our first destination. After this, the rest of the week was a mixture of good and bad roads, paved and unpaved, although I must add that the main routes in the coffee region, that is, the roads between Armenia, Pereira and Manizales, are all dual carriageways and in excellent condition. It's only when you get off them when things become a bit… fruity. But then again, here is where the fun also starts.
One of the best drives of the journey was leaving the coffee region and making out way out of Salamina towards Honda. On Julián's suggestion we took a different road towards Manzaneros, which was a wholly unpaved one, with scarcely any traffic at all (we encountered a couple of jeeps, one lorry and plenty of cows) and a joy to drive in a 4x4 - muddy bends, puddles, but most of all, stunning mountain views, which would make you want to stop at every bend to take a picture. The driving enjoyment was all mine, of course, as I was glued to the steering wheel, much to the annoyance of my, by then, new BMF* (obviously) who had managed to extract the promise that I was going to swap places once we got to Manzaneros. And I kept my word…. Only that the tarmac road started at that spot and I have never seen a more hilarious sulk in a grown-up man.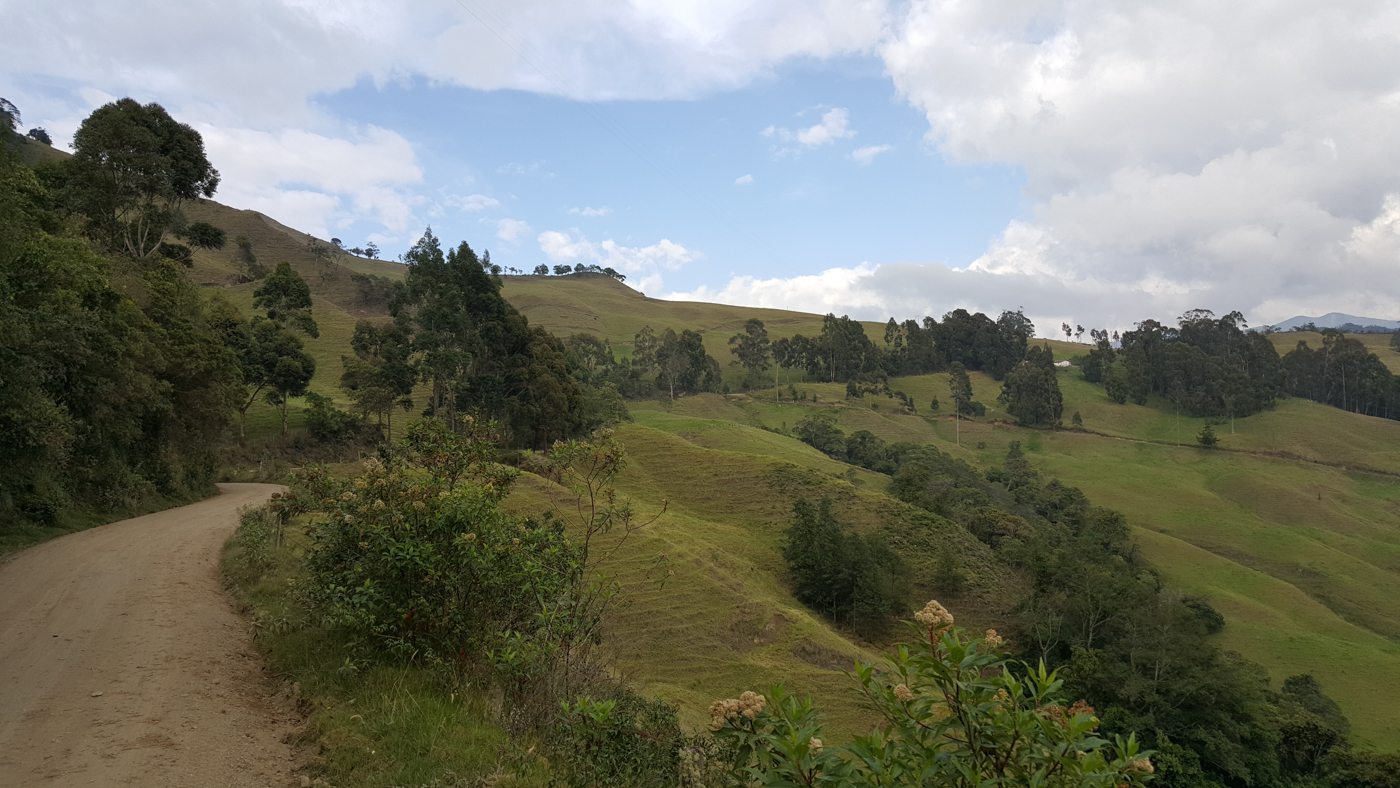 And so here is what I found out about driving in Colombia:
The country doesn't have any motorways and only has dual carriageways on some routes; the mountain roads I drove along are single carriageways, equally shared by cars, buses, trucks, lorries, bicycles, motorbikes and don't be surprised if the odd donkey appears for good measure; storms can blow tree trunks in the middle of the road at any given time, or rocks if you're really unlucky. Pot holes appear often enough and, to add more spice to the mix, some areas are "geologically unstable", which means that the surface can sink due to tremors or other geological phenomena. Oh, and did I mention motorbikes swarming around you like bees, trying to overtake you left, right and centre with a breezy disregard for their own safety?
So in all, this is not for the faint-hearted but the good news is that you definitely won't fall asleep at the wheel. Admittedly, the country's driving habits are idiosyncratic, to say the least, and you will probably end up overtaking a lorry whilst going up a mountain with a double yellow line, but it's that or drive the next 40km at 10kph. Mind you, even the lorry drivers will advise you when to overtake them and this is something you will quickly pick up and become blasé about in no time.
And so it was that I earned the (dubious) accolade of driving (almost) like a local (he said it, promise), thus succeeding in my aim - whilst in Colombia, I did as Colombians do.
* For those not in the know – Best Male Friend
Tailor-made holidays
Flexible, custom-made holidays to Latin America created to match your exact requirements: our tailor-made itineraries are as unique as the clients for whom they are designed.
Design my trip