Cusco and Machu Picchu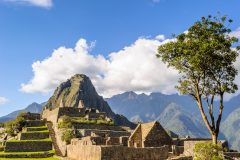 The word Cusco derives from the Quechua word for navel, indicating its location at the centre of the Inca Empire, which reached its zenith at the same time as England was fighting the Wars of the Roses.
You have 3 days to explore the city and the citadel of Machu Picchu, where an overnight stay gives you the opportunity fully to explore the site.
Day 1:  Fly to Cusco where a city tour allows you to explore the Plaza de Armas, the 16th century cathedral and Santo Domingo church  - built on the site of Qoricancha, Cusco's principal Inca temple.  Visit also four Inca sites on the edge of the city including Sacsayhuamán, a fortress and ceremonial centre.
Day 2: Travel by train to the ruins of Machu Picchu. The ruined city, reclaimed from tropical cloud forest, was discovered by American explorer Hiram Bingham in 1911, when it was buried beneath jungle vegetation. You will have a guided tour of the ruins. Overnight at Machu Picchu village at the foot of the mountain.
Day 3: There's the opportunity to return to the site of Machu Picchu in the early morning when the site is virtually empty and the early morning mists swirl around the surrounding mountain tops. Return to Cusco by rail and road (4 hours).
Day 4:  Fly to Lima and connect with international flight home or begin your tour.
Breakfast daily
4 days from £801pp